Dear Readers:
One of the best things about having an online column that is read by so many is the opportunity to give shout-outs to those I love! My dear friend - and co-conspirator in all things catly - Nemo "Chairdude" Cat is turning 18 today! This is a milestone birthday in the life of a cat; in human years, Nemo is turning 90!
Hey, look! I found Nemo!
As you can see from his picture, Nemo is one sexy kitty! I believe this is what people mean when they say that all black cats look alike! (Right?). Nemo is an amazing cat friend to me, frequently sending me photos for use in my column and commenting on my posts, letting me know when I did good, and letting me know when I slipped up and could have done things a little better. One of these days I will be taking a vacation, and Nemo has generously offered to cover for me when that day comes! What a buddy, what a pal! Look for him on
Facebook
!
Please take the time to leave a comment wishing Nemo a very happy birthday!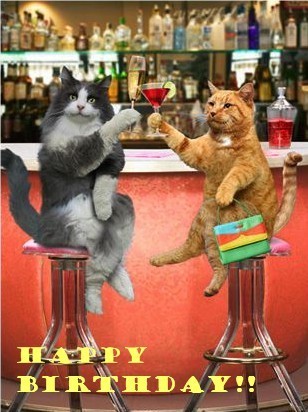 Happy birthday, Nemo!
Snuggles,
Tazi
Ask Tazi! is
ghostwritten
by a human with a Bachelors of Arts in Communications. Tazi-Kat is not really a talking feline.